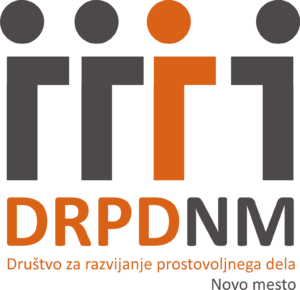 www.nevladnik.info
www.facebook.com/pg/DRPDNM
drpdnm@gmail.com
Rozmanova ulica 30, 8000 Novo mesto
+386 (0) 7 39 39 311

DRPDNM association is Slovenian non-governmental and humanitarian organisation, working in the public interest in the area of social care, youth and culture.
Our mission is to contribute to more inclusive and open society for all. Our two leading programs therefore deal with inclusion of socially excluded groups and with the stimulation of the NGO development and civil dialogue.
Our activities within the programs are performed by expert and voluntary work.
We promote the values of solidarity, tolerance, voluntarism, active living, clean environment, citizenship awareness and inter-cultural dialogue.
DRPDNM is skilled in local, regional, national and international projects as it deals with projects funded by local, national and EU programmes and funds (ESF, EACEA, EIDHR, EYF, E+, CEI, IPA, BIFC, JUST, H2020, DAPHNE III, INTERREG, EuropeAid…).
Our programs, covering two areas of work are:
1. LIVING TOGETHER (PROGRAM OF SOCIAL INTEGRATION)
The goal: To establish conditions for more equal inclusion of alienated groups into society Target group: Socialy excluded children and adults (Roma and migrants)
Program is based on: Efficient connection of social work with culture + active inclusion of local majority population in the process.
The activities (addressing the causes of exclusion):
IMPROVING ADEQUATE SKILLS AND SELF-CONFIDENCE:
Daily Centers for children: Daily canter for Children, Daily Centre for Roma Children in Roma settlements Šmihel and Brezje (Creative workshops, social workshops, Slovene language course, individual study help, leisure activities, the use of computer as a learning tool, folklore group, theatre group…)
Educational program for adults (Roma and migrants): Slovene language and culture courses, lectures and workshops on labor market, healthy lifestyle, nutrition, illness, birth control etc.), counseling and advocacy o Organizational help at self-organizing into associations
PROMOTING CULTURAL IDENTITY: o Social, educational and cultural exchanges with partners from home countries of minorities (international cooperation in the South-Eastern Europe) o transfer of knowledge and experience onto partner organizations
AWARENESS RAISING AMONG MAJORITY POPULATION: Round tables, workshops on human rights, seminars and trainings, concerts, performances, celebrations, non-formal meetings with members of ethnic minorities, radio and TV broadcasts, promotional film, booklets, public calls for best essay/slogan…
2. THE REGIONAL NGO CENTER
The goal: To encourage better development of NGOs, their skills and public image Target group: cca. 1.500 NGOs in the region Southeastern
Program is based on: Overall support (technical, educational, informational …) and networking
The activities:
INFORMING: daily updated web page, weekly news, free web pages for NGOs, press releases
EDUCATION: lectures and workshops on useful subjects, computer literacy workshops
COUNSELING AND SERVICE: legal and financial counseling, counseling at grant proposals, equipment rental (photo, laptop, projector, sound-system)
NETWORKING: NGO bazaars, publication on NGO, promotional campaigns
PROMOTION OF NGO SECTOR: radio and TV broadcasts, press releases, brochures, promotional films for NGOs, workshops for media editors, conference for entrepreneurs
STRENGTHENING THE CIVIL DIALOGUE at the local level between NGOs and municipalities (local decision-makers).
SUPPORTING ACTIVITIES (for both programs):
Training and education for voluntary work (equipping volunteers with sufficient knowledge, skills and ideas)
Promotion of voluntary work (in schools, on public events)
Co-operation with NGOs nationwide
DRPDNM association currently employs 25 people, 2 social pedagogues, 5 social workers, 1 andragogues, 2 lawyers, 1 journalist, 1 communicologist and other profiles to implement programs for social excluded groups (especially Roma, migrants children and women), activities for raising public awareness and promotion of intercultural dialogue and activities for the empowerment of non-governmental organizations and civil dialogue.
60 volunteers are included in all of the programs.